Order Adventure North for $16.95 (discounted price) by clicking the "Add to Cart" button below:
– Clay Jenkinson, Author of The Character of Meriwether Lewis: Explorer in the Wilderness, Bismarck, North Dakota
"Adventure North fits the bill as a lively, entertaining and stirring account of teenage exploits in the natural world rarely sought out for, much less experienced, by today's youth. In truth, however, it is an inspirational narrative for all ages on personal growth through pushing past one's comfort zone, reliance on others, and most importantly, friendship. While the title indicates the route taken by the pair, it easily symbolizes the upwardly character development that results."
Their route began in downtown Chaska on the Minnesota River. The first three hundred fifty miles were spent paddling up the flooding Minnesota River to the South Dakota border. After Big Stone Lake and Lake Traverse, the pair met up with the Red River, traveling down its entirety into Lake Winnipeg. The eleventh largest freshwater lake in the world, Lake Winnipeg runs over two hundred fifty miles from the south to north end, at which point began a five hundred mile wilderness jump down the Hayes River to Hudson Bay at York Factory, Manitoba.
To learn more about the Hudson Bay Expedition, visit the original website from 2008.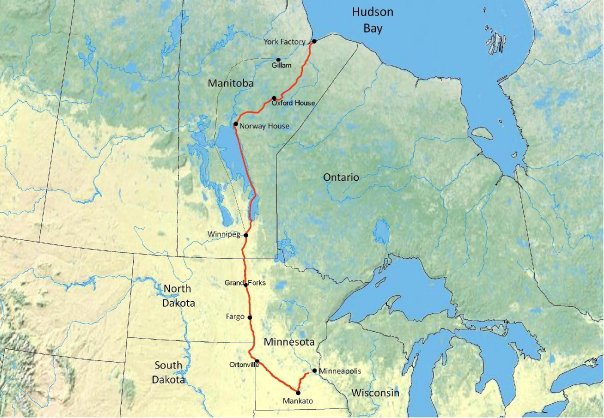 Join in the triumphs and trials of Colton and Sean's adventure by ordering Adventure North.
For more regular updates:
<![CDATA[ (function(i,s,o,g,r,a,m){i['GoogleAnalyticsObject']=r;i[r]=i[r]||function(){ (i[r].q=i[r].q||[]).push(arguments)},i[r].l=1*new Date();a=s.createElement(o), m=s.getElementsByTagName(o)[0];a.async=1;a.src=g;m.parentNode.insertBefore(a,m) })(window,document,'script','//www.google-analytics.com/analytics.js','ga'); ga('create', 'UA-75907078-1', 'auto'); ga('send', 'pageview'); // ]]>